AFFORDABLE. ACCESSIBLE.
ANYWHERE, ANYTIME.

At a Glance
Pioneers in Imaging Lateral Flow Tests
i-calQ started photographing lateral flow tests in 1998 and we've been using smartphones to store and transmit lateral flow test results beginning since 2007.
First to File
i-calQ first to file patent applications on using smartphones to read, interpret and communicate the results of point-of-care tests. We filed our first in 2011, which issued on 11/18/2014, and have filed 8 additional patent applications since then.
Integrated Qualitative Results and Decision Support
i-calQ's imaging technology is both quantitative and reproducible. We are the first to incorporate qualitative lab test results into clinically proven rules-based decision support algorithms into standalone, smartphone-based solution.
Regulatory Expertise
i-calQ's founders have been developing internationally approved diagnostic devices for more than 30 years. i-calQ's expertise in regulatory affairs enables us to market our technology on an analyte specific basis.

What if you had the diagnostic resources of a clinical laboratory and the expertise of a medical specialist right on your smartphone?
What if you could go to a pharmacy or local clinic and have the same blood test usually performed in hospital laboratory done on a smartphone in a matter of minutes for a fraction of the price?
What if you were able to have those test results interpreted and receive treatment recommendations immediately without having to wait or see a specialist?
What if a smartphone could screen children for malaria, determine why someone can't get pregnant or lose weight, or instantly diagnose whether an individual is suffering from life-threatening hypotension without access to laboratory equipment, trained technicians, special chemicals, or electricity?
What if this technology was available to you… today?
i-calQ has developed the world's first smartphone-based point-of-care integrated mobile diagnosis and decision support system. Our point of care technology performs in minutes many of the diagnostic tests routinely used in clinical medicine and interprets these results using rules-based decision trees.
Using a drop of blood or saliva, a test can be performed and the results interpreted anywhere and anytime. Our technology does not require costly equipment or laboratory personnel.  Accurate results, clinical interpretation, and recommendation for additional workup or treatment are delivered within minutes at a fraction of the cost of a comparable laboratory test and physician evaluation.
---
RUGGED. RELIABLE. REALLY SIMPLE.

Four Components
i-calQ's technology consists of four primary components:
A smartphone or tablet
A point-of-care test reading biosensor
A disposable diagnostic test cassette
Our mobile app
Our mobile diagnostic and disease management solution was designed and field-tested for maximum durability, functionality, and portability. Our compact biosensor weighs 52 grams, and is made from a shatterproof, waterproof plastic that is reliable in all climates and environmental settings. Engineered to use a smartphone's camera, and processing capabilities, our biosensing technology has no moving parts to break and requires no additional power source.
With a clean interface, easy to follow instructions and ultra-low power consumption, our app is intuitive and accessible to any category of health care provider, and engineered to collect, analyze, and interpret test data with or without internet connectivity. Test results and treatment recommendations can be wirelessly printed, sent securely via SMS or email, or securely uploaded directly to an electronic database or an encrypted cloud server instantly.
---

To introduce our integrated smartphone-based quantitative diagnostic and disease management technology, we have developed a thyroid disease management solution.
Facts About Thyroid Disease
Thyroid disease is very common: In the United States alone, more than 35 million people have a thyroid disorder.
Blood tests for thyroid disease are one of the most frequently performed tests in a medical lab.
Congenital hypothyroidism affects 1 in every 3000 babies. Every newborn in affluent countries is checked for congenital thyroid disease at birth.
If not diagnosed and treated within the first month of life, congenital thyroid disease results in permanent mental retardation.
Blood tests for thyroid disease are one of the most frequently performed tests in a medical lab. A single thyroid blood test usually costs around $75 and requires up to 3 days to obtain the results. Presently, the process of getting  tested for thyroid disease involves traveling to a health care facility, having a tube of blood drawn , and then waiting days to learn the results. Because of the prevalence of thyroid disease, general practitioners and physician's assistants treat patients with this complex condition without consulting a specialist.  Diagnosis and treatment of thyroid disease can be complicated; an incorrect test can be ordered, test results are often misinterpreted and patients prescribed incorrect medication. This is waste of time and resources, and can comprise a person's medical care and health.
With our technology you can have the same thyroid test done in a medical lab performed on a smartphone using only a single drop of blood, and receive your test results in matter of minutes for less than $10.
Those test results can be interpreted and you can receive treatment recommendations using built-in decision tree analysis developed by thyroid experts.
Whether it's thyroid disease, diabetes, fever or shock, i-calQ's smartphone-based point-of-care diagnostic platform and integrated decision support system offers high quality, cost effective, and convenient diagnosis and evaluation.
---
SOLUTIONS FOR TODAY.
A PLATFORM FOR TOMORROW.
SMARTER HEALTH CARE FOR
EVERYONE.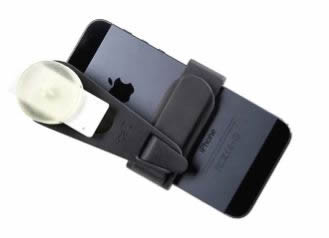 Smartphones are the 21st century's doctor bag, patient chart, radiology suite, clinical chemistry laboratory, medical records department and epidemiology center.
What we're working on
A pregnancy monitoring solution based upon quantitative measurement of hCG
A shock (i.e. life-threatening hypotension) diagnosis and treatment solution which measures troponin I, IgE, hemoglobin, C-reactive protein, and cortisol
An antenatal care test panel that incorporates HIV, TpHA (syphilis), Rh, glucose, and urinary albumin testing
An insulin dosing test panel using glucose, hemoglobin A1c and creatinine measurement
A kidney function monitoring solution based upon point-of-care serum creatinine and urine specific gravity measurement
An HIV treatment monitoring test panel with quantitative point of care CD4, hemoglobin, microalbumin, and creatinine tests.
i-calQ's technology is a springboard for innovation, integration, and tailored-solutions for consumers, patients, and healthcare providers. Our technology can be adapted for virtually any smartphone, mobile operating system, and electronic database. Currently, we have quantitative assays interfacing with analyte-specific decision support algorithms on a number of smartphone devices running Google Android, Apple iOS, and Microsoft Windows Phone.
Our technology is a platform for smarter and better healthcare.
What can you develop with our technology?
What can i-calQ do for you?
---